"Nintendo is dead," they said, after the Wii U was considered to be a failure by the long-time video game giant.
With 13.6 million total units sold, the Wii U proved to be Nintendo's worst selling console over their illustrious history, and by a wide margin. In comparison, the second worst selling console, the Nintendo GameCube, sold nearly twice the amount of units at 21.7 million.
Fast-forward to five years later, and the Nintendo Switch would prove the doubters wrong. As of September 30th, 2020, the Nintendo Switch had sold 68.3 million units, making it a huge success for Nintendo. The portability and massive game library has perhaps made it Nintendo's most unique console ever, too.
Click below to view the full-size infographic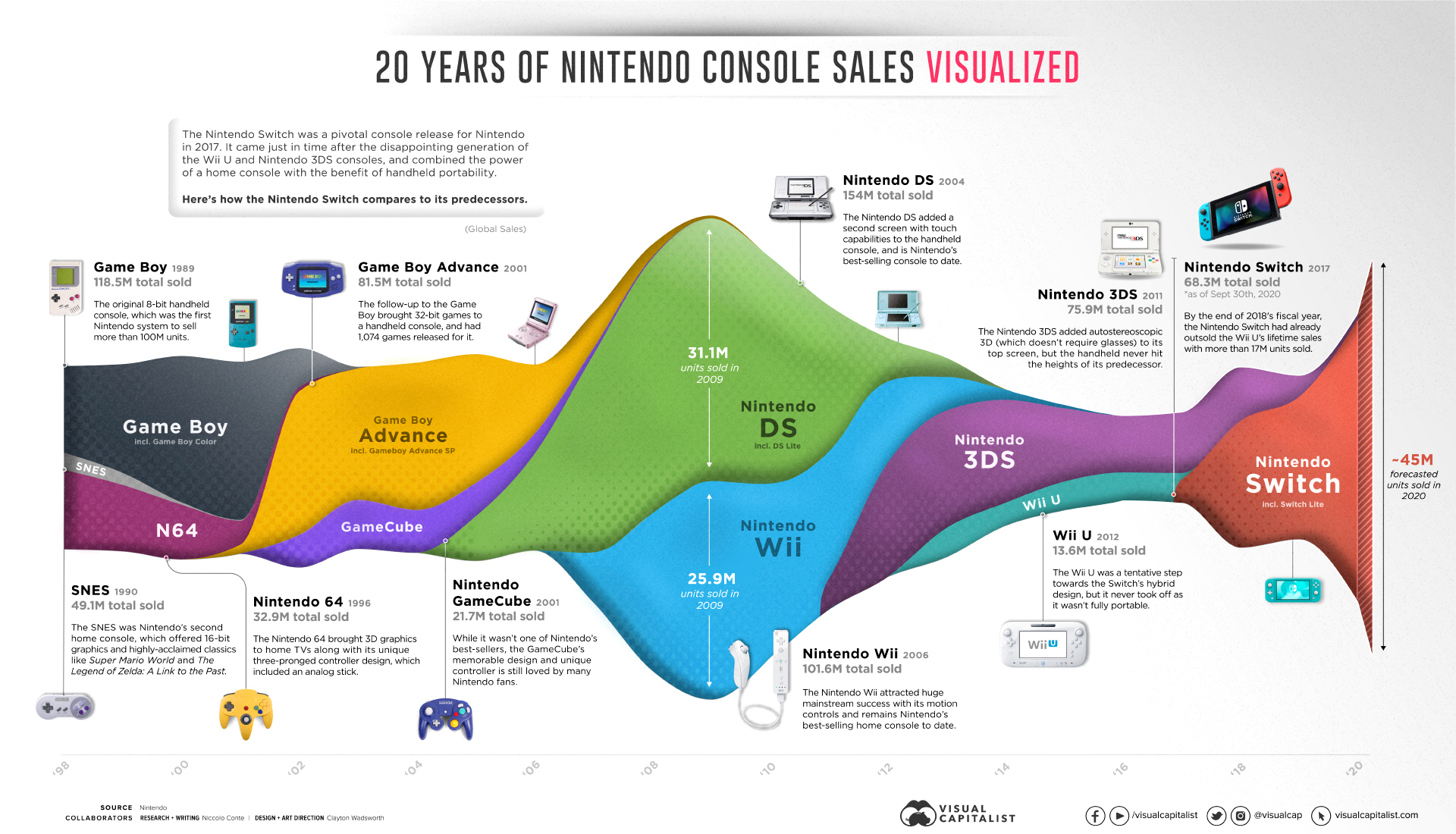 From Visual Capitalist, this visualization looks at the timeline of Nintendo's console sales over the last several years. From the data, it's clear that handheld gaming systems have sold exceptionally well for Nintendo over the years, as the Game Boy, Game Boy Advance, Nintendo DS, and Nintendo 3DS have combined to sell 429.9 million units. Add the Switch into the mix, and you're about halfway to a billion units sold.
As December 31, 2020, here are the 10 best-selling games for the Nintendo Switch:
Mario Kart 8 Deluxe: 33.41 million
Animal Crossing – New Horizons: 31.18 million
Super Smash Bros. Ultimate: 22.85 million
The Legend of Zelda – Breath of the Wild: 21.45 million
Pokemon Sword and Shield: 20.35 million
Super Mario Odyssey: 20.23 million
Super Mario Party: 13.82 million
Pokemon – Let's Go, Pikachu! and Let's Go, Eevee!: 13 million
Splatoon 2: 11.90 million
New Super Mario Bros. U Deluxe: 9.82 million
What's your favorite game to play on the Nintendo Switch? Let us know in the comments below!